Mindful & Somatic 
Yoga Therapy
A six week Experiential & Embodied Journey
TRAUMA  ANXIETY  GRIEF
with Pru Trundle
Two New Course Dates:
Monday Group: 18th July – 22nd August
Mondays 11:00 am -12:45 pm
Saturday Group: 23rd July – 27th August
Saturdays 11:00 am -12:45 pm
One Day Urban retreat:
Saturday 16th July, 12:00 pm – 6:00 pm
Sign up below to hear about future course dates.
MSYT is a 6-week, experiential and embodied journey, integrating mindful meditation, yoga, somatic therapy and psychotherapy techniques.
We explore practical tools, tips and experiences to help us work through the symptoms of anxiety, stress, trauma and grief.  These techniques shed light on how to regulate our emotions and nervous system, connect to the wisdom of our body, mobilise stagnant energy, release deeply held tension and allow stuck processes to move forward. Through this embodied, trauma conscious experience we learn to approach ourselves with kind curiosity opening to a deeper understanding of ourselves and leading to greater self-acceptance, self-kindness and ease. A little about my recent journey:  In 2019, after reading The Body Keeps the Score, I travelled to Massachusetts to study with Bessel van der Kolk (the author, and a leading expert on trauma). Bessel's teaching gave me so much insight into myself, it was an invitation to learn more and it changed my life. It allowed me to feel deeply and to find compassion for myself, more compassion for others and a deep desire to support trauma survivors on the challenging journey to becoming whole.
I have since studied with exceptional trauma specialists including Peter Levine (Somatic Experiencing), Stephen Porges (Poly Vagal Theory) and Tara Brach (Radical Acceptance) and completed a certificate in Integrative Somatic Trauma Therapy.  MSYT is an integration of ancient and modern wisdom, yoga and Somatic Therapy.
This is an experiential course where we put theory into practice. We will establish safety through self-regulation practices, build resilience as we grow our capacity to be with more, and attune to the wisdom of our body to discover true self-compassion and connection. 
It is not a replacement for therapy, but holistic support for your healing journey. 
All welcome. No experience required.
To embodied wholeness with curiosity and kindness, Pru 

MSYT Course Mondays
July-August
Mindful & Somatic
Yoga Therapy
anxiety  :  trauma  :  grief
with Pru Trundle
WHERE: The Retreat Yoga Studio
184 Through Road Camberwell
DATES: Mondays 18 July – 22 August
11:00 am – 1:00 pm
INVESTMENT: $395

IN-STUDIO & On-Line COURSE


MSYT Course Saturdays
July-August

Mindful & Somatic
Yoga Therapy
anxiety  :  trauma  :  grief
with Pru Trundle
WHERE: The Retreat Yoga Studio
184 Through Road Camberwell
DATES: Saturdays 23 July – 27 August
11:00 am – 1:00 pm
INVESTMENT: $395

IN-STUDIO & On-Line COURSE

Please be in touch if you wish to chat more about sharing this special experience.  0419419707  Hello@TheRetreatYoga.com.au
I created this course and The Retreat Yoga Studio to be a place where people feel welcome.  We understand how vulnerable you may feel, and the courage it may take, to step through our doors for the first time, please know you are welcome and you belong.
2021 Dates
Monday Group, 19th July – 23rd August – FULL
Thursday Group, 22nd July – 26th August – FULL
Thursday Group, 16 September – 21 October – FULL
Saturday Group, 30 October – 4 December – FULL
Monday Group, 1 November – 6 December – FULL
2022 Dates

Monday Group, 31 January – 7th March – FULL
Thursday Group, 10 March – 14 April – FULL
Sunday Group, 1 May – 5 June – FULL
Monday Group, 2 May – 6 June – FULL

Recorded Course
Mindful & Somatic
Yoga Therapy
anxiety  :  trauma  :  grief
with Pru Trundle
WHEN: In own time
(recording of 2021 online course)
A new class is activated each day for 6 days.
(access for 80 days)
INVESTMENT: $300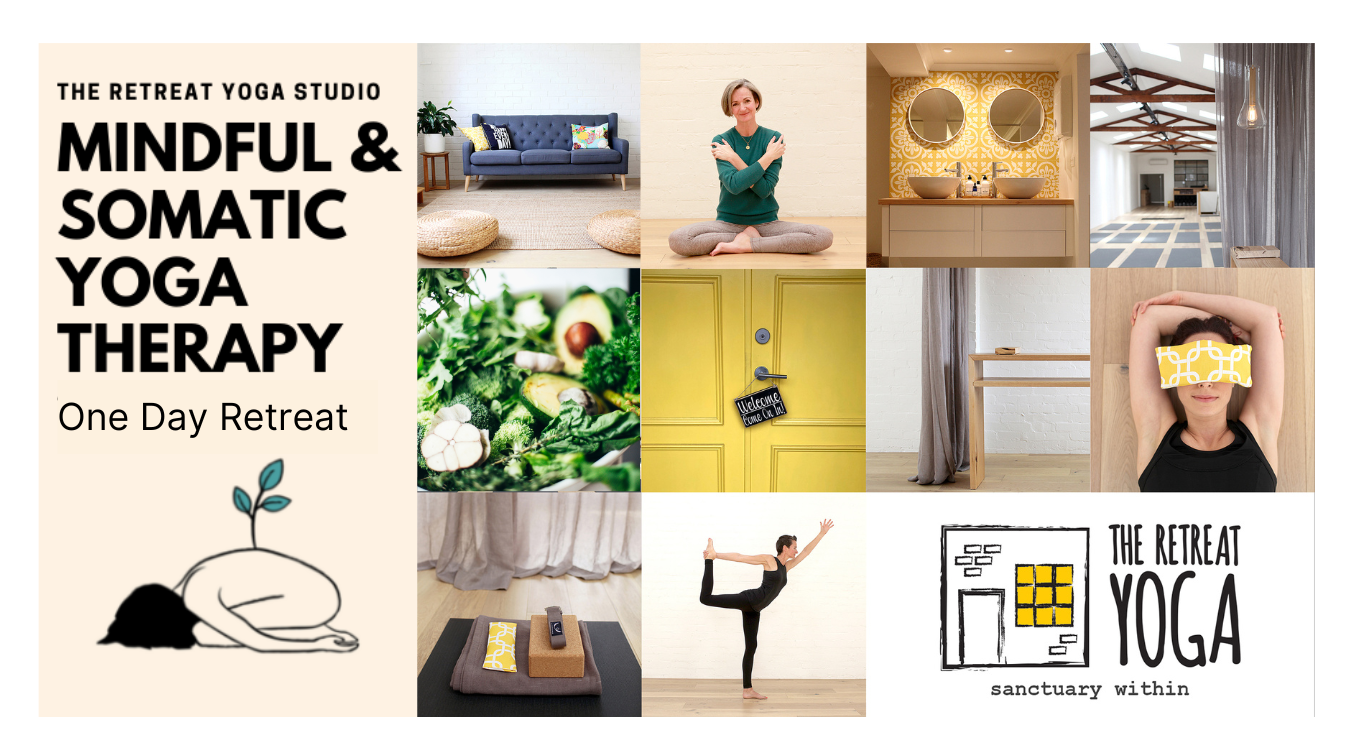 Mindful & Somatic
One Day Urban Retreat
A day of embodied, compassionate, connection within
with Pru Trundle
WHEN: Saturday 16th July 12:00pm – 6:00pm
WHERE: The Retreat Yoga Studio
184 Through Road Camberwell
Late Lunch will be provided 2-3
Please bring a towel, journal and pen.
INVESTMENT: $240

IN-STUDIO
for anyone wanting to:
calm the nervous system, feel safe and embodied
find more space, expansion, ease and breath in the body
practice mindful meditation and attune to the wisdom of the body to discover true self-compassion 
experience somatic movement and the release of stuck energy
enjoy a healthy lunch and connection with like-minded new friends
discover simple ways to self-soothe and self-regulate
tone the vagal nerve to enhance attunement and regulation
listen and understand your inner child with deep inner-child work
understand yourself and your needs on a deeper level
experience restoration, safety and connection
I highly recommend this 6 week yoga course. I went to the course with limited expectations having gone through years of various therapy's. By week 5 something transformational happened which is hard to put into words. There was a huge sense of letting go, immense emotions, release and a gaining of greater love for myself and my journey.
I have begun to appreciate my journey to healing is not just through 'talking' it's through connecting to who I am. Not switching off to others and the 'noise' but switching into my being, and internal sense of self. Caring for and nurturing that inner child.
Since the course I've stopped my medications (with my therapist's support), I no longer suffer the extreme anxiety 'shakes', my mind is able to switch off. I sleep better. I feel calmer. Not always … but compared to how I was earlier this year I feel a whole new person. The stress of our COVID world seems a distant memory but I know if we end up in another lockdown situation using the skills I have learnt it will be a much calmer, easier time. Thank you Pru.
Firstly The Retreat in normal times is an amazing space. This course is run by Pru and you couldn't ask for a more caring and motivated instructor. If you are on a journey of healing, there will be something in this program that resonates with you. Pru is knowledgeable in her subject, always kind and thoughtful. I can only recommend this highly! It could only have been better if it was in person and not online due to lockdown.
The Retreat Yoga Studio is a hidden gem of a sanctuary, run by wonderful Pru who puts her heart and soul into everything for her students. I recently participated in the 6-week Mindful & Somatic Yoga Therapy course online, which was beautifully run and a really meaningful experience. Pru has also provided private group classes for my work team, which was tailored perfectly to our needs. If you're looking for a holistic, restorative, welcoming and comfortable studio, definitely visit The Retreat!
I work in the field of corporate well-being and need to 'walk my talk' by managing my own well-being and stress, so I enrolled in this program – which was outstanding. Each week I experienced a deep relaxation state that re-set my nervous system. I particularly appreciated Pru's expertise in giving scientific explanations behind the exercises and creating a warm, welcoming and safe environment. This was an incredible experience I plan to repeat and I highly recommend it.
I am so glad to have experienced Pru's 6 week Mindful & Somatic Therapy course for anxiety trauma & grief. I had high expectations & they were surpassed. I knew Pru has an extraordinary wellspring of knowledge , compassion and a gift for teaching/guiding.
The course is beautifully crafted and delivered.
I discovered much more than I had expected to about myself , where my body keeps the score & practices that enable me to be with discomfort.
Im writing this a week after the last session. Ive noticed several times that despite the stormy seas Ive been navigating ther's much less sense of overwhelm. I am going about my business, persisting strangely calmer and more self compassionately, . That's a damn fine return on investment!
Thankyou Pru
The Retreat is exactly that – a warm, welcoming retreat to allow some time for reflection, connection and immersion. The staff are genuine, unpretentious and just lovely people!
The Mindful & Somatic yoga course is legitimately life-changing! Incredibly well-researched and considered, it supports your whole mind and body to process & integrate life experiences without re-traumatising you in a safe and supportive environment. The ultimate kindness to yourself. Highly recommended.
Pru is an exceptional human being, period. Her pure heart in creating The Retreat Yoga Studio is evident in every conversation she has, the details and the design of the studio, and how she intentionally crafts and delivers every class. 
I was so blessed to participate in her personally curated workshop Mindful and Somatic Yoga Therapy for Grief, Anxiety, Depression and Trauma. Pru imparted scientific, spiritual and sociological insights that unlocked internal doors for every participant over the course. Week by week, we worked through multiple physical and mindful tools that encouraged us to look at ourselves and our stories with courage, curiosity and compassion. This was more than just a self-care course; it was a hand-held, supportive journey that allowed space and time to unravel our layers, experiment with boundaries, discover new perspectives and practically experience self compassion. Pru presents in such a honest and tangible  way that your heart cannot leave untouched. A worthwhile and wonderful investment. Please give yourself this gift!
Pru and all the teachers at The Retreat are wonderful. They are kind, passionate about their craft and empowering others to access the peace and power that comes from being mindful about your movement and mindset. Every and any class I attend is restorative from the inside out. The studio is also a beautiful sanctuary with high ceilings, such a calm and inviting space, no matter who you are, your yoga experience or how you're feeling. I highly recommend The Retreat yoga studio. It radiates love and light!
I recently finished my 6 weeks program Mindful & somatic yoga therapy and it was exactly what I needed. Pru is an amazing human being who has created a safe space and hold us all through this journey. It was a very moving experience and I recommend it ! Thank you Pru. The studio is splendid, I love the skylight on a sunny day but also on a rainy morning. Cleanness and covid-safe measures were also a highlight, feeling extra safe during this uncertain time. Thank you Pru and see you soon <3
Recently I completed the Mindful and Somatic yoga course at The Retreat Yoga studio in Camberwell. Pru is a wonderful yoga teacher who has created this course. On a personal level I was able to explore a deeper awareness of myself and allow for self discovery and healing. Throughout the course I had the ability to repeat the classes in my own time which allowed me to really embody this experience. Thank you so much Pru.
I recently completed a 6 week course in Mindful and Somatic Yoga Therapy with Pru Trundle. Pru is a wonderful and supportive yoga teacher and so knowledgeable about yoga and somatic therapy. Her course was so interesting and helpful about gaining insight into the our bodies and how we can use yoga and mindfulness to support our healing journey. I highly recommend The Retreat Yoga Studio as a studio with compassionate and wise teachers as well as a nurturing environment and a welcoming community.
As usual, Pru delivers a first class and caring experience. This approach of managing trauma from the inside out makes all of the difference.
The world certainly would be a kinder place if we could all commit to this healing work. "The Body Keeps the Score" sparked my initial interest but it was the warmth & gentle guidance from Pru (in a beautiful room with like minded souls) that really helped me lean into the embodied experience in a meaningful way. Thank you so much for the love & learnings 💛
It's yoga, but not as you know it 🙂 this course uses a range of particular yoga methods to help the body release muscle and mental tension. You can participate as much or as little as you wish, no pressure, just plenty of time to unwind.